Pixie Class (Reception)
Please see the timetable for Pixie Class this week:
Week Commencing 16th April 2018
Week Commencing 23rd April 2018
Week Commencing 30th April 2018
A Message from the Pixie Class Teacher, Miss Hales
We are excited to welcome you back to our ffith term in Pixie Class (The start of the summer term!) and we hope you had a lovely and relaxing Easter holidays!
Attached is our exciting early year's curriculum. We are continuing to meet the objectives on this document by providing all pupils with the opportunity to engage and explore a variety of activities that encourage development in each of the seven areas of learning. These areas are identified in the planning document. Children need to meet the Early Learning Goal by the end of this academic year in all areas in order to achieve a 'Good Level of Development'.
This term our topic decided by the children is "FairyTales", please see the topic plan attached for objectives we will be focusing on and some activities we will be doing across the term.
Here is some pictures of Pixie Class:
Writing Area Computer / Listening Area
Construction Area Role Play Area
Maths Area Reading Area
As previously mentioned we will be working with the children to create and develop our outside area, a massive thank you for all the money raised in Term 2 from our Halloween Wellie Walk. We raised an amazing total and this term we will be doing another fundraiser to add to it. We have drawn up some very exciting plans with Stepping Stones Nursery and soon you will see this be put into place.
Workshops
We have now provided parents with training for Tapestry Training, Phonics Workshop, Phonics open sessions, Maths workshop, Math's open sessions and Reading workshops. We are so pleased with the positive feedback from the questionnaires.
If you feel like you would benefit from any more training on the area of learning then do not hesitate to ask and this can be arranged. We are going to do some other workshops such as 'reading buddies with parents' to give you the opportunity to continue to come into class to support your child. Lookout for the letters in the term ahead.
Reading Books
Please try and read with your children each evening for 10 minutes. Please record this in the purple reading log, if we can see all the pages in the book have been read we will change the book. Children may be encouraged to re-read the book to build their confidence with the familiar words they recognise and blending for meaning to understand the story being read.
In term 3 we introduced 'Pixie Class Reading Challenge' which has had a huge impact on children's reading and writing. Thank you for supporting your child with this and we hope to present children with prizes this term for reading the expected 5x a week for nine weeks in a row. Please continue your hard work.
If children read:
5X in one week = Gold Star
(3 X a week at least at home and 2 X a week in school to reach the expected amount)
3x Gold Star = Certificate
3x Certificate = Free Picture Book
In addition to this if your child goes up a reading band look out for a sticker to congratulate them and ways to support them with their new reading band! We have lots of children working on the pink and red reading band and some children even approaching yellow.
Phonics
We do daily phonics session using the scheme 'letters and sounds' supported by 'Jolly Phonics' actions. Children in Basil Group or Barney Group are working on phase 3.
Letters and their sounds are introduced one at a time. A set of letters is taught each week, in the following sequence for phase 3:
Set 6: j, v, w, x
Set 7: y, z, zz, qu
Consonant digraphs: ch, sh, th, ng
Vowel digraphs: ai, ee, igh, oa, oo, ar, or, ur, ow, oi, ear, air, ure, er
As soon as each set of sounds is introduced, children will be encouraged to use their knowledge of the letter sounds to blend and sound out words. For example, they will learn to blend the sounds ch-o-p to make the word chop. They will also start learning to segment the sounds to support them phonetically write the words.
When your child has completed the end of their phase they will be sent home with a certificate and a sound mat for their new phase. I would like to congratulate all children on increasing in a phase in term 4 and being rewarded with a certificate and their new sound mat and tricky word book mark.
Boris Group are entering Phase 5 in term 5. They have made astounding progress and we are so proud of how far they are progressing in their phonics.
Children entering Phase Five will already be able to read and spell words with adjacent consonants, such as trap, string and flask. They will also be able to read and spell some polysyllabic words.
In Phase Five, children will learn more graphemes and phonemes. For example, they already know ai as in rain, but now they will be introduced to ay as in day and a-e as in make.
Alternative pronunciations for graphemes will also be introduced, e.g. ea in tea, head and break.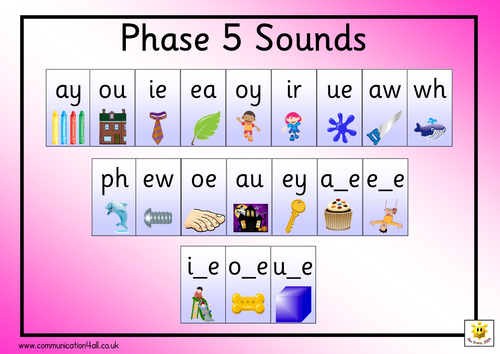 For further support on how to aid your child with phonics please refer to 'Phonics Matters'.
Maths
This term children will focus on:
Time

Measuring short periods of time

Tally charts / Recording

Halving/sharing

Practical with objects

Halving numbers

Counting

Counting in 2s

Money

Making amounts using coins e.g. 3p/5p

Addition

Number sentences

Practical addition

Adding using a number line

Capacity

Language of capacity full, empty,1/2 full , more , less

Comparing capacity

Subtraction

Concept of less

Subtracting using objects

Subtracting by counting back on a number line.
Please continue to use the Maths at home booklet to support you with activities and upload these on tapestry to share with Miss Hales and Miss Brown.
For further support on how to aid your child with maths please click here; 'Maths Matters'
Child initiated
In reception we value the impact of play and how this supports a child's development. We have child initiated time in the afternoon for children to develop their knowledge and understanding of the world, technological skills, communication and language, speaking and listening, building and developing relationships, expressive arts and imagination. This time consolidates a child's understanding and allows them to put their skills in to practise and develop them independently.
Tapestry
It is great that all parents in Pixie Class are active on tapestry and are either contributing to observations added by school or adding their own from home. It is brilliant to have the opportunity to both add to your child's learning journey.
Continue to Watch out this term for 'Tapestry Challenges' and see if you can add evidence of your child doing challenge and upload. Children enjoy using Tapestry as a 'show and tell' resource in the classroom. Thank you for those who have been uploading tapestry observations to meet the challenges it is very much appreciated.
Homework
Children have had their 'love to learn books' for two terms now and I am so impressed that children are completing the activities set on a weekly basis. This term the homework will continue to be set on Friday and due the following Thursday. Many thanks with your continuing support.
Open Afternoon
Each term the children are very busy and produce some wonderful things both in their books and around the classroom. We would like to give you the opportunity to be shown these by yours children in a parent 'Stay and Play' session. This will be held on the final week of each term from @ 2.35 – 3.00pm in Pixie Class Dates TBC. Your children will have the opportunity to show you all of their fabulous work they produce each term, read a story with you and show you around their classroom!
Thank you for those who attended in Term 1 and 2 3 and 4 the children thoroughly enjoyed it and was very proud of all their accomplishments. It was brilliant to have your parent voice comments attached to their books to show our growing 'parents as partners' motto.
PE
Our PE Day is Friday. Please make sure your children have their kit in school on this day so they can fully participate in all our PE activities. This is also the day that items of our school uniform go missing as the children get changed for PE independently. To avoid this please make sure all items of clothing are labelled.
For children to participate in PE they are not allowed to wear earrings. Please remove these before children come to school.
Our PE topic this term explores different ways of moving and balancing using different parts of their body. E.g. riding bikes and scooters, climbing over climbing equipment, walking on bucket stilts etc.
Uniform
All children are to wear;
White polo top / white shirt.
Black Trousers / Black Skirt / Black Shorts
Summer Dress
Black Shoes
School Jumper / School Cardigan / School Fleece
Please make sure all these items are labelled with the child's name clearly visible.
Water Bottles
We provide a water bottle for each child. These are filled up and cleaned out daily. These water bottles are not to be taken home and will remain in school. Children do not need an additional water bottle bought in from home unless they are packed lunch.
Fruit and Milk
All children will be provided with a snack at 10.15 daily. Children will be provided with a piece of fruit and carton of milk. Free milk is available for all children under the age of five in school, funded by the UK government. Once your child turns five you will be asked to pay a subsidised rate for your child to continue to receive milk. If you would like to register your child with milk once your child turns five please contact the office.
Lunch Times
All children will be supervised in the dinner hall by a member of the reception team. They are there to aid the children carry their trays, support them to use a knife and fork and encourage them to try a variety of different foods offered. All children up in EYFS and KS1 are entitled to a free school meal. The menu is on a three week router and this can be given to you at reception upon request.
If children prefer they can also bring in a packed lunch. We are proud to say that we are a 'healthy school' and therefore no crisps or chocolate are to be bought into school.
_________________________________________________________________
If you have any additional questions, worries or concerns please feel free to drop in and speak to your class teacher at the end of the school day or write in the home contact book. Alternatively you can ring the school office and the class teacher will ring you back at a convenient time..
Miss Hales